Simplifications in legislation are often a source of difficulty. It seems to be simpler, but over time it turns out that the new directives are associated with considerable contradictions or paradoxes. Same with tricycles. They were intended for use by people with disabilities. However, over time, manufacturers began to produce very interesting tourist cars in the form of three-wheeled vehicles. Some of them require a category A driver's license, while others require a category B with an L5e approval. Read our article and learn all about tricycles, and especially category B tricycles! We encourage you to read!
Tricycles - what are they?
Before we focus on category B tricycles, let's get to know some facts about these vehicles! The popular tricycle is simply a vehicle with 3 wheels and an engine. It can be equipped with two wheels at the rear of the structure or at the front. It is important to note that such a motorcycle is not a vehicle with a sidecar. A valid driver's license is therefore required to drive a tricycle.
Tricycle motor. What type of driving license do you need?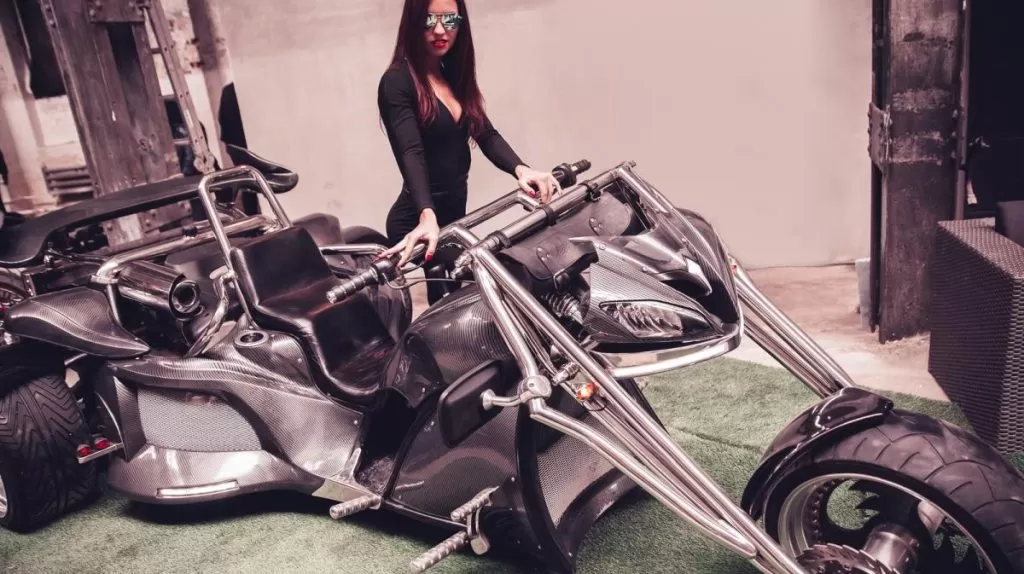 Until December 22, 2018, motorcycle tricycles were treated the same as motorcycles. They could be driven up to 15 hp. and 125 cc, having category B. If you wanted to drive something bigger (more powerful), you had to get the appropriate permissions.
The regulation was so annoying that in many European countries category B tricycles have long been honored. And this is regardless of engine size or power. The only bone of contention was the aforementioned homologation. What with her?
Tricycles - category B or A?
Can a vehicle with three wheels be considered a two-wheeled motorcycle? Of course it can. How is this possible? This applies to models whose track between the wheels of one axle is less than 460 mm. Such a three-wheel motor requires a driver's license adapted to the power if it exceeds 125 cc.
Tricycle - driving license and homologation L5e
However, it is enough that the distance between the wheels of a three-wheeled motorcycle is greater than the estimated 46 cm, and then the volume and power of the engine no longer matter. This equipment is L5e approved and can be operated by a category B driver's license holder in accordance with applicable law. Of course, if he has held a driver's license for at least 3 years. Therefore, a wide range of drivers can use category B tricycles.
Tricycles - the price for an unusual pleasure
Before you buy a tricycle, you should seriously consider what you are really looking for. Is it an urban maneuverable three-wheeler or a powerful trike with a large engine? For a 50 cc version, you will have to pay several thousand zlotys, but you will also find tricycles more expensive than new cars.
Category B tricycle – for whom?
Such machines were intended to serve people who, for health reasons, could not move on two-wheeled vehicles. However, over time, category B tricycles have become widely used by motorcyclists and car drivers impatient with traffic jams.
Who will be happy with a tricycle?
This has been facilitated by a growing selection of refined and durable tricycles at affordable prices. Years later, there are plenty of city and tourist cars on the market that can cover many kilometers in very comfortable conditions. There are also powerful units that can only be scared away by the price.
Tricycles - brands on the market
It all started with Piaggio and the manufacturer's MP3 model (not to be confused with the audio format). Interestingly, the manufacturer has produced category B tricycles, as well as those that required traditional motorcycle licences.
However, the tricycle market is not limited to this one brand. Remarkable category B tricycles are also produced and supplied to the market:
● Can-Am;
● Harley-Davidson;
● Read;
● Peugeot;
Suzuki;
● Yamaha.
Which tricycle to buy in category B, i.e. overview of tricycle models
Among the above manufacturers will be interesting models of three-wheeled motorcycles designed for urban and tourist driving. Each vehicle submitted will require a category B tricycle driving license. So you don't have to worry about possible motorcycle driving courses. Let's start with the smallest instances.
Motorcycle on 3 wheels - no motorcycle license required - Yamaha Tricity 125
This model did not require a motorcycle license until the tricycle law came into effect. The Tricity 125 is a great choice for people who are hesitant to ride a two-wheeler due to its wobbliness. Why?
Tricity 125, which means freedom and comfort in the city.
The presented model is very stable in a stationary state. It is worth noting that category B tricycles with two front wheels usually do not have a suspension locking solution. This allows you to keep your feet on the footrests even while waiting for the light to change.
In addition, the design of this tricycle uses a 125-cc unit with a capacity of 12,2 hp, which ensures free movement around the city. There aren't many trails to walk on.
Larger category B tricycle - Piaggio MP3 3
It is available in 300 and 500 cm39 versions. In the more powerful variant, this is less than 250 hp, which, compared to more than XNUMX kg curb weight with working fluids, is an average. However, this is quite enough for driving on busy streets.
The Empetroika also has a suspension lock so it doesn't tip over when stopped. However, not so tempting is the price, which exceeds PLN 40. Quite a lot for an uncovered tricycle.
Peugeot Metropolis
The French "citizens" are a great offer for those who like to quickly sneak through the streets. This three-wheel motor is almost a copy of the Piaggio MP3, which, like it, folds like a scooter in turns. The driver was left with an engine of less than 400 cc and 37 hp. Not a little, not a lot.
Yamaha Niken - tricycle for true enthusiasts
Now it's time for category B tricycles, which amateurs should beware of. Why? Firstly, they have great power, and the presented models drive just like a motorcycle.
First on this list is the Yamaha Niken. The tricycle from Japan has an 847 cc engine. cm, and power is provided by 115 brisk and sometimes hard-to-control horsepower. It is a fortune in misfortune that you have to spend more than PLN 60 on it, because if it were cheaper, many hobbyists could lose their health on it.
Can-AM Spyder and Riker
The first of the three-wheeled models is a total torpedo, and its sensational 106 hp engine. provides an amazing driving experience. However, it is not suitable for driving between cars, because it simply does not add up in corners. It also doesn't fit between two lanes.
Ideal for extreme conditions
Most importantly, this is a category B tricycle that can be ridden on gravel roads. He is not afraid of riding on dust and dirt, but on a relatively stable surface. There is only one catch - more than 70 PLN. Oh, such a humble block.
Harley-Davidson Tri Glide
A sub-2-litre V100 engine and a two-wheel design on the rear axle - what does that mean? It's more like driving a car than riding in a motorcycle-like vehicle. More power (XNUMX hp) and even more torque provide sensational sensations on the road.
As you can see, you don't need a tricycle license. It is enough that you have a category B for 3 years and you can safely drive one of the above models. If you already have the rights to a passenger car, then the price of a tricycle license will be about zero. This is undoubtedly a great advantage of category B tricycles!
2022-11-25