P0122 Throttle Position Sensor / Switch A Circuit Low Input
OBD-II DTC Datasheet
Low input signal in the throttle position sensor / switch A circuit
What does P0122 mean?
This Diagnostic Trouble Code (DTC) is a generic transmission code and applies to many OBD-II vehicles (1996 and newer). This may include, but is not limited to, Honda, Jeep, Toyota, VW, Chevy, Ford, etc. Despite the general nature, the exact repair steps may vary depending on the model year, make, model and transmission configuration.
The P0122 code means that the vehicle computer has detected that the TPS (Throttle Position Sensor) "A" is reporting too low a voltage. On some vehicles, this lower limit is 0.17–0.20 volts (V). In simple terms, the throttle position sensor is used to determine which position the throttle valve is in.
Did you customize during installation? If the signal is less than 17V, the PCM sets this code. This could be an open or short to ground in the signal circuit. Or you may have lost the 5V reference.
For more information on TPS, see What is Throttle Position Sensor?
Example of a Throttle Position Sensor TPS: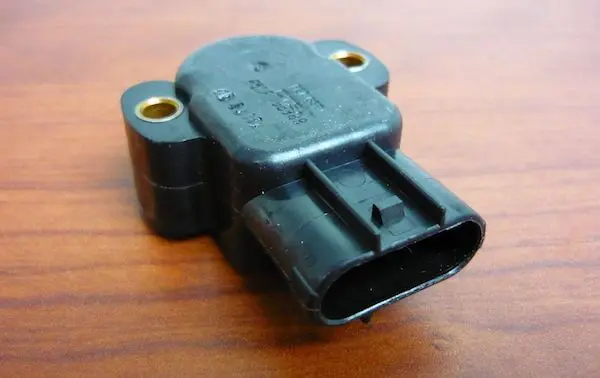 symptoms
Symptoms may include:
Rough or low idle
Very high idle speed
stolling
Growing
No / slight acceleration
Other symptoms may also be present.
reasons
The P0122 code may mean that one or more of the following events have occurred:
TPS is not securely attached
TPS circuit: short to ground or other wire
Defective TPS
Damaged computer (PCM)
Possible solutions
Refer to the specific vehicle repair manual for the location of the "A" TPS circuit.
Here are some recommended troubleshooting and repair steps:
Thoroughly check the Throttle Position Sensor (TPS), wiring connector and wiring for breaks, etc. Repair or replace as necessary
Check the voltage at the TPS (see your vehicle's service manual for more information). If the voltage is too low, this indicates a problem. Replace if necessary.
In the event of a recent replacement, the TPS may need to be adjusted. On some vehicles, installation instructions require the TPS to be properly aligned or adjusted, refer to your workshop manual for details.
If there are no symptoms, the problem may be intermittent, and clearing the code may temporarily fix it. If so, then you should definitely check the wiring to make sure that it is not rubbing against anything, not grounded, etc. The code may return.
TIP: A visitor to our site suggested this tip - the P0122 code can also appear when the TPS does not ROTATE during installation. (The protrusion inside the sensor MUST touch the rotating pins in the throttle body. On a 3.8L GM engine, this means plug it in with the plug 12 o'clock before turning it 9 o'clock to the final mounting position.)
Other TPS Sensor and Circuit DTCs: P0120, P0121, P0123, P0124
Related DTC discussions
03 Cavalier 2.2 P0122 DTC P0452I changed the sensor, sensor plug and new wires. Have a good 5V reference, good ground, signal wire reads .49V idle 4.43 Wot. I checked all the wiring from PC to TPN. The voltage across the pcm (a few inches on the dark blue signal wire) is the same as on the tps. I don't know where to go next. What could have been ...
p0122, the car will not startI have a 1999 Chevy suburban, 1500, 4wd, 5.7 petrol engine. 150,000 0122 miles. Wednesday went well. Thursday it doesn't quite start. I say "not really" because it catches and starts, but immediately stalls when you release the key. the fuel pump is operating normally. obd reported crackle pXNUMX ...
Code P0122 for 2007 Dodge Ram 1500 5.7L HemiI have a code P0122 indicating a low voltage at the accelerator position sensor. This is new code after installing the following parts. ECM, TIPM, crankcase sensor, camshaft sensor, ignition switch, the list goes on. I replaced ALL the accompanying parts, including the new accelerator pedal, just instantly ...
codes P0122 and P0108 for Buick Center 98 with 3.1 engine.Well, I read what these codes mean. but the car won't start. I was driving, and it stopped working, as if I had disconnected the wire. and when I try to start it it starts to run unevenly and behaves like it wants to start. is there anything else I could look for ??? ...
P0300 Ignition misfires and other codes for GMC Jimmy 2001 P0122 P0463 P0719 P1122 P1381Hi, I have a number of problems with my GMC Jimmy (2001 / 4.3L) starting with a misfire DTC: - P0300 - Engine misfire - P0122 - TP or APP sensor 1 circuit short / low - P0463 - Fuel level Sensor circuit signal high / open - P0719 - TCC / brake "B" switch circuit signal low / short - P1122 - TP c ...
P2002 Malibu High Idle 0122After I have driven my 2002 Malibu for about 15 miles, the idle will increase to about 2000. If I turn off and press the gas pedal a few times, it will usually stop at idle. I cleaned the throttle body and IAC port and replaced the IAC. No CEL, but I have a scanner and a kind of old cod P0122 ...
2010 Silverado P0122, P0223, P2135, C0242, U2100My truck continues to stall and reports that engine power is low and traction control is required. DTCs: P0122, P0223 and P2135. Before that's all. It now also displays C0242 "The PCM has indicated a fault in the traction control system", U2100 "CAN bus communication". I have done a lot of research and ...
2004 Impala P0122Good morning, my 2004 Impala is showing DTC P0122 Throttle / Pedal / Switch A Sensor Circuit Low Input. The problem started when I replaced the thermostat and resonator last Wednesday. The car was going well that day. However, when I launched it on Thursday morning, it didn't stay ru ...
P0122 of F-2002 550Ok guys, All-Data doesn't help me that much, I need some specs on where to test what on this P0122 (ETC sensor circuit low), I need to find an electronic throttle control unit (ETC) on it, but alldata by for some reason I do not have this information, if I can find its image and wiring diagram ...
2010 Chev Traverse p0122 codeI keep getting the code p0122, put the new throttle position on it and no change. Run a little, and then dies ....
Need more help with the P0122 code?
If you still need help with DTC P0122, post a question in the comments below this article.
NOTE. This information is provided for informational purposes only. It is not intended to be used as a repair recommendation and we are not responsible for any action you take on any vehicle. All information on this site is protected by copyright.
2022-05-26