You are about to buy a car. You have compiled a preliminary list of brands and models to see if you know whether you want diesel or gasoline, calculated how much money you can spend on buying a car, but you approached the question "a car with a timing chain or timing belt" and you begin to hesitate a little.
Timing Chain or Belt - Similarities and Differences
Automotive internal combustion engines use four clock cycles to complete the combustion process (shock, compression, fuel and exhaust). During the process, the camshaft rotates once, and the crankshaft rotates twice. The relationship between the rotation of the camshaft and the crankshaft is called "mechanical synchronization". For the engine to work properly, the movement of the pistons and cylinders must work synchronously, and it is during this time that the timing chains or timing belts are responsible.
Simply put, the function that both the timing chain and the belt in the car perform is absolutely identical and includes the synchronization of the pistons and cylinders in the engine so that it can operate smoothly and efficiently.
If they perform the same function, what is the difference?

Although these two components perform the same task to synchronize engine processes, they differ in both the materials from which they are made and the duration of operation and location.
For example, the timing chain is made of metal and is very similar to single-row bicycle chains. It is installed inside the engine, and inside the engine there must be tensioners that are controlled by oil.
The main advantage of chains is their extended service life. They do not freeze and are not subject to thermal effects, they hardly stretch, they can regulate the gas distribution working phases much more precisely, and, most important, they can be eternal in practice (if you drive carefully and do maintenance).
Of course, they have such disadvantages as:
if they break, they can cause irreparable damage to the engine
they are noisier compared to timing belts
their replacement is a rather complicated process that requires special knowledge
their price is much more expensive

Timing belts appeared in the 60s of the last century, and today almost all makes and models of middle-class cars are equipped with belts. The advantages of timing belts are that they are made of resilient, durable materials, which makes them much quieter than chains, and that replacing them is relatively simple.
Their disadvantages are that they wear out relatively quickly, which in practice makes them consumables. In addition, when the belt needs to be replaced, the tensioners, pump and many other elements must be replaced with it.
As we already noted, today quite a large part of middle-class cars is equipped with timing belts, and if you decide that you want to drive a car that is equipped with a belt instead of a chain, you can easily find it.
Chain drive
A large number of manufacturers and owners continue to prefer timing chains. Why?
The truth is, major car manufacturers prefer to rely on timing chains, especially turbocharged cars or cars in the higher price range. Manufacturers such as BMW, Opel, Volkswagen, Ford, Cats, Mercedes and many others equip many of their models with timing chains, and the main reason for this is that the chains are much more reliable, the risk of wear or tearing is minimal and they can withstand much higher loads than timing belts.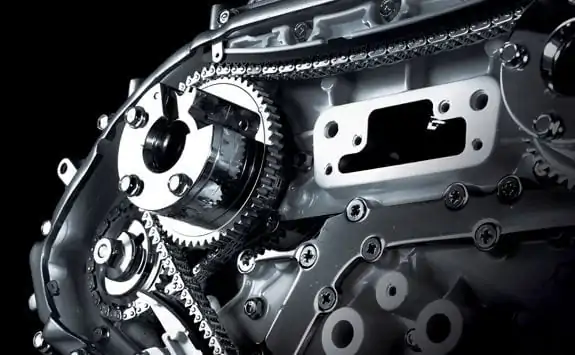 What car models have a timing chain?

Before we begin, we must tell you that the list is not intended to be exhaustive, but at least it will give you basic recommendations if you want to drive a car with a timing chain.
Alfa Romeo 159 - 2,2-liter, 4-cylinder and 3-liter V6 gasoline engine
BMW - all models with engines larger than 2,0 l
Cadillac - all models
Chrysler - Neon, PT Cruiser, 300 C gasoline and diesel
Chevrolet - Corvette, Epica 2.0, Colorado pickup with I-TEQ engine, Spark 1.0 and 1.2, Colorado 2.5 and 3.0 diesel since 2007.
Citroen - gasoline C1 1.0, gasoline C3 Picasso 1.6, gasoline C3 1.4 and 1.6 (2010 models), gasoline DS3 1.6, gasoline DS4 1.6 and others
Dacia - Duster 1.6 petrol, Sandero and Sandero Stepway 0,9 TCe 90 and t. D.
Fiat - Multijet 1.3 diesel, Sedici 1.6 petrol, etc.
Ford - Ka and Fiesta 1.3, C - Max and Focus 1.8 and 2.1, Mondeo - all modifications from 2001 to 2006, Mondeo V6s, 4-cylinder Mondeo 2.0 gasoline engines from 2007, etc. etc. t.D.n.
Honda - all Jazz and Civic models released in 2006, including 1.8i - VTEC, CR - V 2.2 i CDTI diesel and others.
Mercedes - all models starting in 2012, including Class A, with the exception of a Class A 1.4 model with a diesel engine, as well as all models with engines larger than 1,8 liters.
Mini - all 2011 models, including 1,4 diesel engines and 1,6 N47 and 2,0 diesel engines. All new Mini 1.2, 1.5 engines with 3 cylinders and 2.0 with 4 cylinders, released in 2014, also have timing chains.
Audi - 1.4 TSI and 1.4TFSI since 2013, A3 - 1.6FSI gasoline and others
Renault - Twingo 0.9TCE 90 I 1.0, CLIO 0.9 gasoline and 1.2 TCE 115 gasoline, Scenic and Megane 1.2 TCE 115 gasoline and 1.4 TCE 130 gasoline, Scenic 2.0 diesel, Laguna 2.0 diesel, Laguna Coupe 2.0 diesel and 3.0 V6 diesel, etc. D. p.
SAAB - all turbocharged 4-liter engines and all 2,2 diesel engines with a few exceptions
Opel - Agila 1.0 12V, 1.2 16V, 1.3 CDTI, Corsa 1.0, Astra, Meriva, Zafira Tourer, Insignia (turbo), petrol Vectra 2.2 and ddr.
VW - all models of cars with 1,2-liter 3-cylinder engines produced before 2012, Golf VR5, Golf VR6, Sharan VR6, all Touareg models and all Phaeton and others
Nissan - all models that have vg, gg, sr, gr engines.
This is a very small part of the makes and models of cars that have a timing chain, but we will stop here because, on the one hand, our time is limited, and on the other, we have more interesting (and, hopefully, useful) things for that to tell you ...
How fast and easy is it to find out if the car you like has a timing chain?

If you are not looking through long lists of models and brands, you can simply remove the hood of your favorite car and take a look. If there is a plastic cover on the side, left or right side of the engine, this means that the car has a belt. If you don't see such a thing, then the car has a timing chain.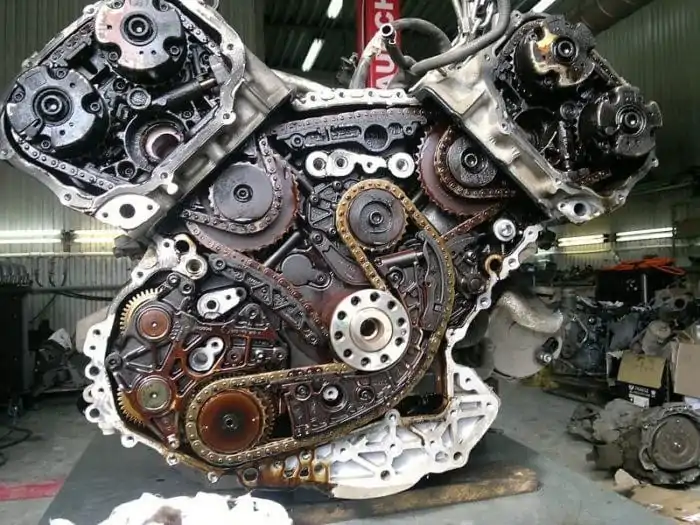 What car models have problems with the timing chain?

SsangYong Action
SsangYong Action - G20 gasoline engine, 2 liter, 149 hp The village is a second-generation Korean SUV model. It is stylish and extremely elegant, but, unfortunately, its weak point is the timing chain, whose service life is only about 70000 km.
Volkswagen Tiguan
Popular crossovers of the previous generation Volkswagen Tiguan in the original configuration were equipped with a power of 122 hp. page 1.4 TSI turbo engine. Unfortunately, the owners of these versions of the Volkswagen Tiguan experienced the whims of the timing chain, which, even with the slightest wear, "slipped" and missed the lower stage of the crankshaft gearbox.
Volkswagen engineers struggled with this problem for a long time and to some extent managed to increase the life of the timing chain from 60 to 000 km, but in the end they decided to replace the new generation Tiguan engine.
Audi A3
Owners of a used Audi A3 with 1,2-liter TFSI turbo engines experience the same problems with the timing chain, which "slips" or breaks at a distance of about 60 km.
Skoda Fabia
This small, maneuverable car comes with a wide range of engines, but among them all stands out a 1,2-liter 3-cylinder gasoline engine, which is known for its efficiency. The only drawback of this engine is that the working limit of the timing chain is 90000 km.
Skoda Octavia
The second generation A5 with a 1,8-liter turbo engine rated at 152 hp with. and torque of 250 Nm. This Skoda model has very good grip and high performance, and everything would have been great if it hadn't been for its low reliability due to the chain component of the drive.
And before we finish, all we had to do was make a quick comparison between the cars on the timing chain and the cars with the belt.
If at this moment you expect us to tell you whether to stop choosing a car with a belt or chain, we will disappoint you because we will not. We will not do this, insofar as while car manufacturers produce both components to synchronize the engine drive, the discussion of the topic: "Timing chain or belt" remains relevant, and there is no definite answer. Therefore, we will not express our opinion, we will simply compare the car with a chain and a belt, and you will decide which option is more profitable and convenient for you.
So…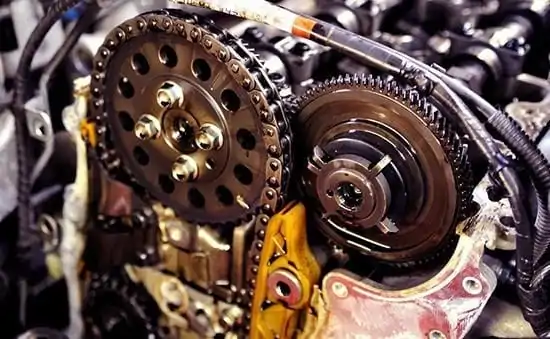 It has already become clear which car models have a timing chain, and if you decide to choose one of these models, you will get the following benefits:
timing chains are more durable and you won't need to change the chain at all, or you only need to change it once
the circuit will provide you with a much better engine torque distribution
You do not have to worry about external influences and high engine loads.
Of course, in this case you will have to take into account that:
timing chains are noisy
You cannot change the circuit yourself
their price is higher, and if they accidentally break, you will have to repair the entire engine or consider buying a new car
If you stop on a car with a timing belt, you will win:
from a lower price for this component
its easy replacement
low noise that it produces during operation

The disadvantages of timing belts are:
their quick wear
almost mandatory replacement of not only the belt, but also all its other components (tensioners, pulleys, etc.).