Typically, a facelift of a model is an opportunity for a manufacturer to slightly update the multimedia, add a few small decorations to the design and thereby provide another two or three years of quiet sales.
However, this is not the case for the Volkswagen Arteon. His first facelift brought us modified engines, many new systems and, more importantly, a completely new model: the Arteon Shooting Brake.
The term Shooting Brake dates back to the 19th century to refer to horse-drawn carriages specially adapted for transporting long guns to hunters. The idea then moved on to cars with a slightly modified meaning: the Shooting Brake is now a lengthened rear version of the two-door car with much more cargo space.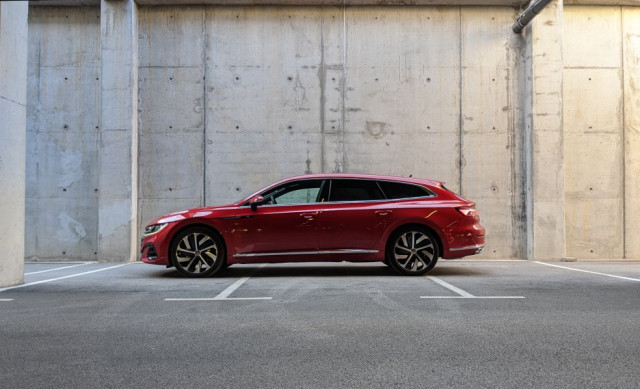 Between us, this Arteon does not meet any condition. As you can see, this is definitely not a two door. And its 565-liter trunk, while impressive, is actually larger than the standard fastback model with a paltry two liters.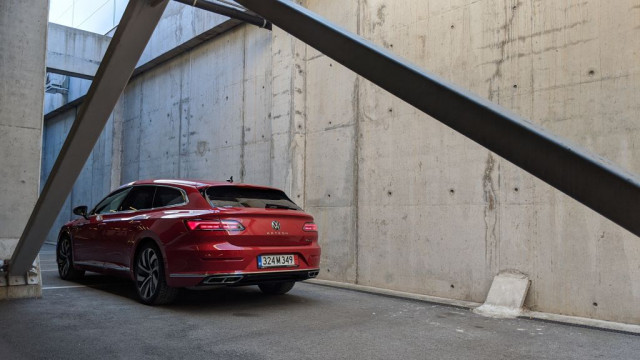 Then why does Volkswagen insist on calling it a Shooting Brake? Because the meaning of this concept has changed for the third time, already under the pressure of marketing, and now it means something between a station wagon and a coupe. Our Arteon is a Passat platform, but with a much lower and sleeker design. Beauty is, of course, in the eye of the beholder, and you can judge for yourself if you like it. This car definitely looks nice to us.
It looks huge from the outside, but is actually the same length as the standard Arteon - 4,86 meters. The station wagon version of the Passat is three centimeters longer.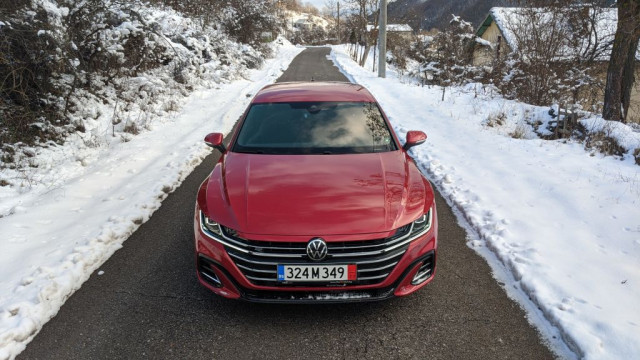 Its driving characteristics are also identical: a good balance between comfort and dynamics. The soft, adaptive suspension allows for a little lean into corners, but the grip is excellent and the steering wheel is very precise. Sharp turns are fun, but this car is built for long, comfortable journeys, not sports.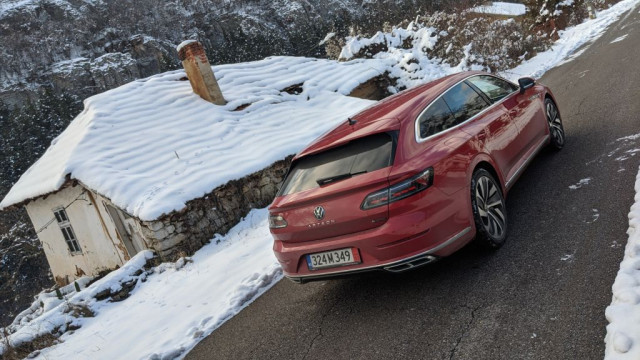 The engines have taken a big step forward to meet the new European realities. The basic version has the familiar 1.5 turbo and 150 horsepower from the Golf. There is also a plug-in hybrid with a combined output of 156 horsepower. However, the main sales will come from larger units - a two-liter turbo gasoline with a capacity of 190 to 280 horsepower and a two-liter turbo diesel with a capacity of 150 or 200 horsepower.
Car specifications
| | |
| --- | --- |
| Maximum power | 200 k.s |
| full speed | 233 km / h |
| Acceleration from 0-100km | 7,8 seconds |
We are testing the diesel in combination with a 7-speed DSG dual-clutch transmission and 4Motion all-wheel drive. The good old TDI has been radically redesigned with many optimizations to reduce consumption and dual urea injection for the lowest possible emissions. The Germans promise an average consumption of 6 liters per 100 kilometers on the combined cycle.
We get a little more than 7 liters, but with a lot of stops and starts, and with the inclusion of heated seats in a particle. So the official figure is probably realistic.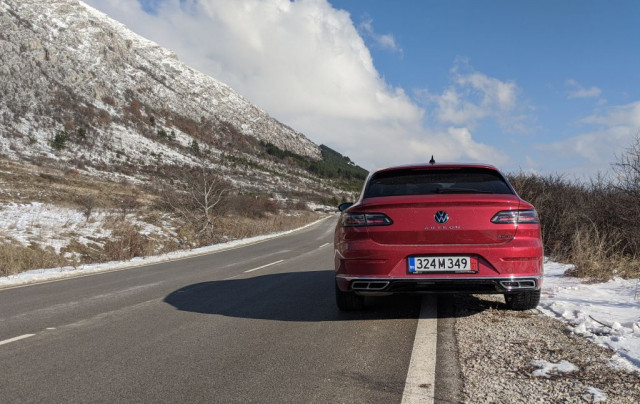 Inside, the Arteon is very similar to the Passat: refined, clean, maybe even a little boring. But there is enough space for five, in the back seat you can sit for a long time, and there is plenty of room for small and not very trifles.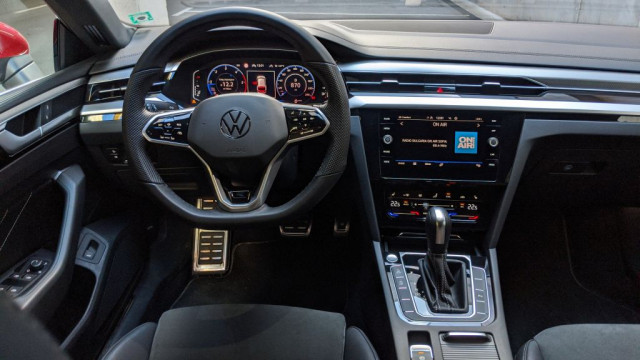 The driver's seat gives a good overview. The gauges in front of it have been replaced by a 26-centimeter digital panel capable of showing what you want - from speed to navigation map. Media also has a large, graphics-friendly screen, which in higher versions comes with gesture recognition and voice assist. The navigation still feels a little counterintuitive, but you get used to it quickly.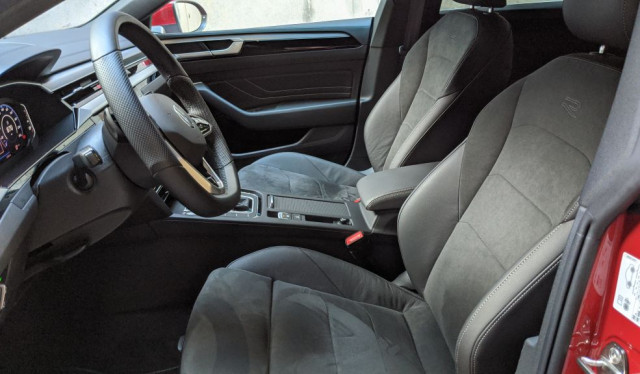 Of course, there are all possible safety systems, including adaptive cruise control, which works up to 210 kilometers per hour, knows how to stop and drive alone in a traffic jam.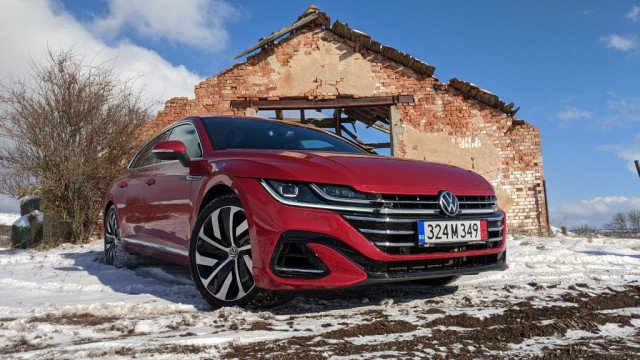 The starting price for Arteon with a 1,5-liter engine and a manual transmission is 57 levs. Not so much, because this car is unusually rich for the standard Volkswagen. It includes 000-inch alloy wheels, LED lights with Long Assist, auto-dimming interior and exterior mirrors, radio with 18-inch display and 8 speakers, multifunction leather steering wheel and leather gear lever, lane keep assist and front parking sensors and rear. ...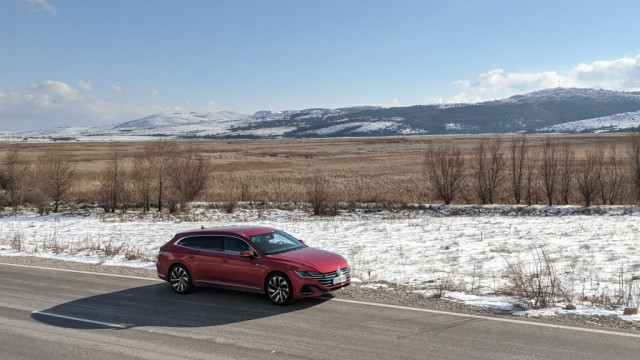 The top level adds adaptive suspension, heated seats and windshield, and wood trim.
The highest level - the R-line - is what you see. With a two-liter diesel engine, 200 horsepower, an automatic transmission and four-wheel drive, this car costs from 79 leva - six thousand more than a comparable Pasat station wagon. The difference is not small considering the Passat has more cargo space.
But Arteon beats it in two ways that are worth it. Firstly, it is not so widespread. And secondly, it looks incomparably better.